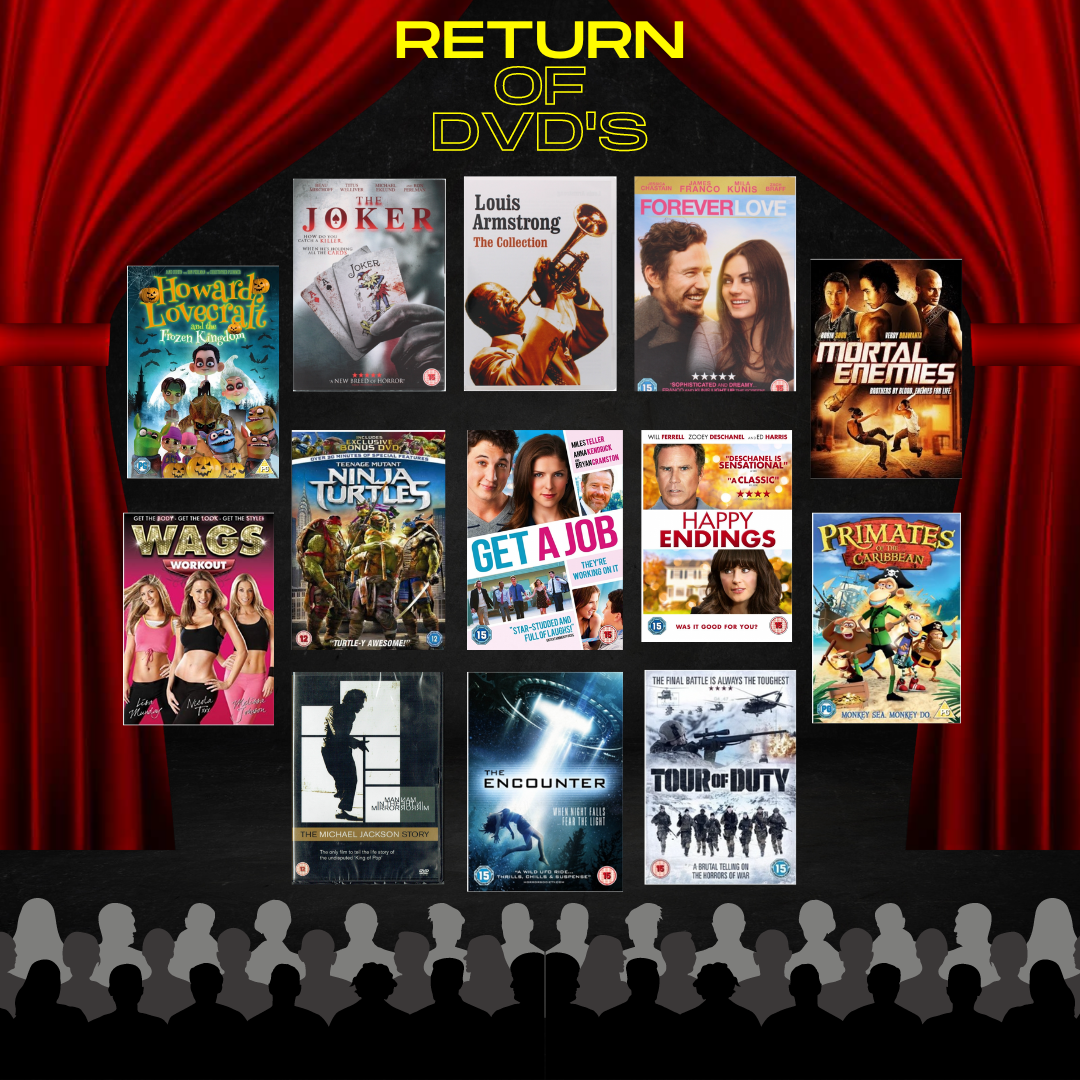 DVDs have been around for a while and are probably going to stick around. Netflix charges a whopping £10.99 per month and Disney Plus charges £7.99. When you sit and think about how many of your favourites are actually available on these services, it makes you question the worth of their price.
Where can I buy wholesale DVDs for resale?
Wholesale DVD Suppliers are a great place to locate DVD's, as they specialise in supplying DVD's in bulk to retailers & more.

Thrift stores, charity shops etc: Many people overlook this as a great way to find quality DVD's and CD's at a fraction of the price. It may take longer to find the items you're looking for, but the cost-effectiveness makes up for it!

Liquidation Sales allow people to acquire DVD's at a heavily discounted price!
Why do stores still sell DVDs?
Not everyone is accustomed to the digital age of streaming services, and instead prefer to have physical copies of their favourite movies and TV shows.

T

here's bonus features- DVDs often include bloopers, interviews, special features, deleted scenes and much more! See how your favourite film is made in feature length documentaries showing the making of it. This great content isn't ever included when watching movies on streaming services/streaming online.

Reliability: with DVDs you don't have to worry about internet connection or waiting for the movie to buffer. Or, some people may not be able to afford high speed internet and so simply having to pop in a DVD and press play is much better.

Permanent viewing pleasure! I know we've probably all experienced the heart crushing moment our favourite movie or TV show was taken off a service. Never experience this pain again when you have a physical copy in your home. The availability of movies is so inconsistent on streaming services, for example when Disney + was launched, many Marvel movies were removed from Netflix. Plus, some movies aren't available due to licensing agreements.

Collectors spend their life trying to find the physical copies of their favourite movies & TV shows- they love DVDs for their physical package, special features and bonus content!

Cost-effective: once you own the DVD, you own it for life!

Quality! DVDs provide fantastic quality due to not having to compress the picture and audio like with streaming services. Blu-rays offer brilliant 4K quality resolution which far surpasses 1080p- although services do offer 4K, studies show this is more like 1080p still due to compression. This means the contrast and colour is far superior in DVDs/Blu-Rays! Plus, unlike streaming which relies on wi-fi, DVD's are not dependent on it, making them reliable whatever the connection quality. Buffering? Never heard of her.

Low in price! DVDs are very cheap to get a hold of. Here at Rysons we offer DVDs for 50p each! Bargain!
What DVDs are worth money in the UK?
If the movie has a cult following or is a classic, individuals will pay a hefty price to get their hands on, for example, a special edition release.

Limited editions also have exclusive content and are valued more highly.

TV Series Box Sets, especially those not being aired anymore, also can fetch a good price.

Discontinued: DVDs that have stopped being produced are highly sought after.

Foreign/rare movies: these movies were released in a limited quantity so are more highly valued.
What is DVD Liquidation Stock:
This is when large quantities of DVDs- both old and new- are sold off at a heavily discounted price, generally done when the business needs to make room for new stock or when they have gone out of business.
Who are wholesale CD & DVD Suppliers?
The Entertainment Company: a leading supplier of CDs, DVDs and Blu-rays, offering a huge range of choices, speedy deliveries and great pricing.

Plastic Head: a wholesale distributor of music & media in the UK that offers a good selection at a discounted price.

Movie Time Video: a UK supplier of DVDs, Blue-rays & CDs at discounted prices.
Who are blu-ray wholesale suppliers in the uk?
The Entertainment Company: a leading supplier of CDs, DVDs and Blu-rays, offering a huge range of choices, speedy deliveries and great pricing.

The DVD Collection: UK based wholesale supplier of DVDs, Blu-rays & CDC's offered at discount prices and fast shipping.

Square One Entertainment: a leading DVD & Blu-ray distributor.

B-Stock Solutions: a platform connecting retailers to liquidation auctions.
Who is a DVD Distributor for Amazon in the UK?
Sony Pictures Home Entertainment: DVD & Blu-rays distributor.

Warner Bros. Home Entertainment: DVD & Blu -ray distributor.

Universal Pictures Home Entertainment: DVD & Blu-ray distributor.

20th Century Studios Home Entertainment: DVD & Blu-ray distributor.

Entertainment One: DVD, Blu-ray & various media products distributor.
Overall, yes, streaming services do allow you the convenience of watching things anywhere when you have your phone. However it is unbeatable to have the DVDs in your home when you think of all the other benefits you get from owning the physical copies! (and if there was an apocalypse DVD's would still work- streaming services on the other hand…)
Here at Rysons we have a vast range of DVDs and Blu-Rays available for you to acquire at wholesale prices! Speak to a member of our team to help answer any questions and ease any worries you might have regarding buying wholesale. Our team is on hand to answer your calls at +44 (0) 161 387 7214.