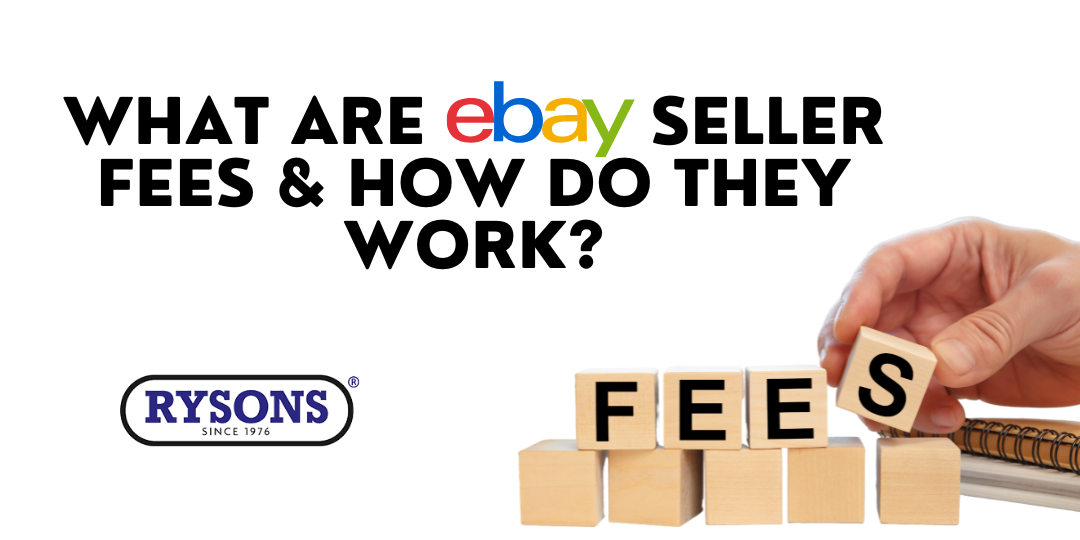 With 129 million active users in 2023, becoming a seller on eBay is very appealing. Of course, eBay needs to make money, and this is done by seller fees & subscriptions. The seller fees are needed for a number of reasons to keep the website as trustworthy & reliable as possible such as customer support, marketing, platform maintenance, fraud protection etc.
When you sell on eBay you're charged 2 types of fees:
Listing/Insertion Fee: this is given when you create a listing

Final Value Fee: when the item listed sells
How much do they charge?
It depends on factors such as the price, the format & category, any upgrades & your seller conduct & performance. Let's look further into each fee…
Listing/Insertion Fees:
Each month you are given 250 zero insertion fee listings. Once the zero insertion fee listings are used, standard insertion fees of $0.35 per listing apply. These are:
Non-refundable- even if sale is never completed

Charged per listing & category- if it is listed in 2 categories, you pay the fee for both.

Charged for the original listing & each time you relist the item.

Charged for duplicate listings

Charged once per listing for listings showing multiple items
Final Value Fees:
This is the biggest amount of money you will have to pay once your product sells. They are calculated by taking a percentage of total sales price, plus a fixed fee of $0.30 per order. These are also based on:
Product category

Total Amount Of Sales (TAOS): this is the total price of your item, tax, handling/shipping fees and more- the more expensive the item the higher the final value fee
Factors that affect fees:
Subscription level*

Category

Type of listing

Auction Duration

Promotional features

Business account type
*Subscription Level:
Basic Shop

:

at

£27 a month this offers reduced additional fixed price listings & tools aimed to help your business grow.

Featured Shop

:

at

£77 a month this offers increased free listing, reduced additional fixed price listings, free international listing & more.

Anchor Shop

:

at

£437 a month this offers unlimited free listings, unlimited additional fixed price listings, personal customer service & much more.
Listing Upgrades:
eBay offers a range of upgrades to increase a listing visibility and help it to sell. Upgrades include things such as extra photos, larger photos, bold titles, subtitles, international visibility and more.
How to calculate fees:
The easiest way is to use a fee calculator- such as the one we offer here on our website!
Determine category

Calculate insertion fees (if needed)

Calculate final value fees

Factor in any potential listing upgrades

Factor in payment fees

Factor in subscription level

Total up the fees
How to lower the fees:
Upgrade your subscription: this is the best & easiest way as you receive a greater number of free listings.

Set up your account to be direct debit- this avoids PayPal fees.

Become a top-rated seller: this will allow you to receive discounts on a range of costs.

Use a

fee calculator

:

this is great for allowing you to analyse your costs and predict & manage future expenses, leading to an increase in profit.
Although sellers may see the seller fees as a disadvantage of conducting business on eBay, in reality they are given access to reliable services & a huge customer base/range. These fees are important to understand, as they can help to maximise business profits & aim to optimise operations.
At Rysons, we're here to help answer any more questions and ease any other worries you may have regarding buying wholesale and selling on to various marketplaces. Our team is on hand to answer your calls at +44 (0) 161 387 7214.