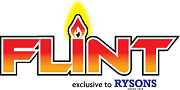 Rysons is proud to present Flint an exclusive brand to the Rysons.
Flint specialises is lighters and accessories but predominately offers a huge range of lighters.
Flint offers many lighter variations that includes wholesale electronic lighter, wholesale refillable lighter and wholesale disposal lighter.
The Flint product lines offer various pack sizes and have a great assortment of designs to choose from.
Browse our lighter today….