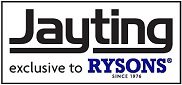 Rysons is proud to present an exclusive brand Jayting.
Jiating offers a wide range of wholesale household products. The range boasts everyday essential products which make our lives easier.
The range includes a diverse product range from wholesale mattress and pillow protectors, plastic dolly pegs, hangers, suction hooks, toilet blocks and castors.
Browse our incredible range of wholesale pound lines and wholesale discount products.
SKU: RY-2015

Availability:

Out of stock

SKU: RY-2150

Availability:

Out of stock