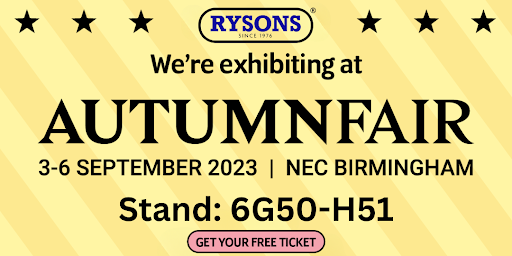 We're Exhibiting!
Here at Rysons as a leading UK wholesale supplier we love a good exhibition- read our previous blog post on what's so great about trade shows here to see just what gets us so excited!
This September we are back and better than ever with an exciting stall in NEC Birmingham at their Autumn Fair.
From the 3-6th September 2023 we will be showcasing many of our fantastic products available for you to browse through. Our products will encompass everything, from wholesale health & beauty products to toys, stationery to household items and more- you name it, we'll be displaying it. Just come on over to Hall 6 Stand 6G50-H51 where you might just discover your favourite new product.
Browse our easy to navigate website here to get a taste of what will be on display.
We can't wait to catch up with the familiar faces of our existing customers, or to welcome some new faces, hopefully putting a smile on them once they see all the fantastic items paired with even better price tags. From wholesale toys to homeware products there's something for everyone.
The NEC Autumn Fair is an excellent event, with spacious halls and a huge variety of stalls to look through. It is held at the beginning of the buying season and exhibits goods from homeware, to fashion, to kitchenware and much more. The fair even has an app that helps you to navigate the fair, making walking around all that much more enjoyable. Taking place in Birmingham, this provides a fantastic central location that allows people from all over the UK (plus many, many businesses from abroad) to travel to exhibit and browse. In fact, around 50% of this year's retail buyers are international, coming from the likes of South Africa, Norway and even Serbia! This gives ample opportunity to gain new customers and partners all over the globe.
To get your free tickets click here: Autumn Fair Visitor Registration
If you are looking for great savings, quality products & great customer service, we at Rysons are here to help. Our team is on hand to answer your calls at +44 (0) 161 387 7214 to answer any questions & ease any worries you may have regarding buying wholesale.